Jerry and Rachel Ordway participate in ARCHIE COVERS: FIFTY TIMES AN AMERICAN ICON
Hi all--
Jerry and his daughter, Rachel, participated in ARCHIE COVERS: FIFTY TIMES AN AMERICAN ICON by
The Hero Initiative
.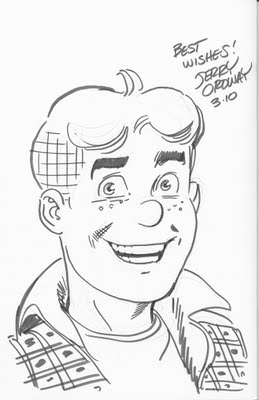 Here's the press release from the Hero Initiative ste:
HERO INITIATIVE AND ARCHIE COMICS TEAM UP FOR 'ARCHIE COVERS: FIFTY TIMES AN AMERICAN ICON'
50 new Archie covers by 50 great artists will benefit Hero Initiative
Los Angeles, CA (March 24, 2010): Archie and the whole Riverdale gang certainly are heroes. Now they're joining forces to aid cartoonists in need.
Archie Comics is teaming up with the Hero Initiative, the charity dedicated to helping comic creators in medical or financial need, for an amazing artistic extravaganza involving the premier issue of the world-renowned Archie wedding series, Archie #600. Archie Comics has printed 50 blank-covered copies of the landmark book, and Hero will have 50 stellar artists do original Archie covers on the special edition books. The originals will be auctioned off at a later date to benefit Hero, and a book will be published, collecting all 50 covers.
Superstar artists such as Neal Adams, Darwyn Cooke, Sam Kieth, Jerry Ordway, George Pérez, John Romita, Tim Sale and more are all contributing to the project, "Archie Covers: Fifty Times an American Icon." More artistic surprises are yet in store, as artists from the animation world and even underground comics will be making contributions as well!
"Hey, Archie Comics is one of the very few companies I've never worked for and any opportunity to draw the lovely Betty and Veronica is one I can't possibly pass up, especially as it also benefits the Hero Initiative. And, considering my reputation as a super-team artist, how could I resist drawing the Riverdale gang in their superhero persona?" said legendary Marvel/DC artist and Hero board member George Pérez.
"Archie Comics is committed to supporting those who have spent their lives as the cornerstone of the comics industry. We are thrilled to be working with the Hero Initiative on this project," remarks Co-CEO Jon Goldwater. "The covers have been remarkable and we can't wait to see what the remaining artists have in store for their edition of the Hero covers for Archie #600."
Each original cover will be auctioned off via eBay.com at a future date. A release date for the book is also pending. Stay tuned! You will not want to miss out on these amazing once-in-a-lifetime covers!