Justice Society of America #23 Pencilled Pages: 1-9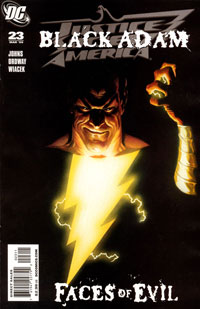 Here are DaOrdster's first 9 pencilled pages for JUSTICE SOCIETY OF AMERICA #23! You get few pages of the JSA in action before jumping feet first into the Black Adam storyline!
In these first 9 pages, you get to see Hawkman, Green Lantern, The Flash, Wildcat, Mr. Terrific, Stargirl, and Ma Hunkel from the JSA.
Black Adam, Isis, the devilish Felix Faust, Marvel and his alter ego of Billy Batson also show up! Hopefully you bought the issue, but if you didn't and you like what you see, what are you waiting for? Get down to your local comic shop and pick it up and don't forget to reserve the next 3 issues!
Check back next week for more pages!
Justice Society of America #23 - Page 1

Justice Society of America #23 - Page 2

Justice Society of America #23 - Page 3

Justice Society of America #23 - Page 4

Justice Society of America #23 - Page 5




Justice Society of America #23 - Page 6




Justice Society of America #23 - Page 7




Justice Society of America #23 - Page 8




Justice Society of America #23 - Page 9