Captain Marvel and The Marvel Family have appeared in a movie and several television shows over the years. Cap got his start in an old Republic Pictures serial back in the 1940s. It was the Shazam! craze of the 1970s that brought him to the television screen in a live action show. Cap even spawned a televsion partner in the form of the Mighty Isis. Cap later went on to star in his own cartoon show with the rest of the Marvel Family. How's that for someone most people remember as...Shazam!?
This page features the Adventures of Captain Marvel movie serial from 1941 starring Tom Tyler, Frank Coglan. Jr., Louise Currie, and...The Scorpion. Relive those thrilling days of yesteryear with this remarkable Republic serial.

Filmation's live action Saturday morning TV show starring Jackson Bostwick (and later John Davey) as World's Mightiest Mortal and Michael Gray as Billy Batson. And who could forget Les Tremayne as Mentor! For three seasons, kids woke up on Saturday morning to watch Captain Marvel fly down dusty canyon roads and perhaps learn a valuable moral lesson.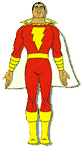 Filmation knew a good thing when they had it. Here's the Saturday morning cartoon show starring the entire Marvel Family, including Freckles!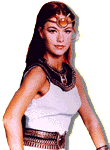 Filmation's follow-up to Shazam! -- Science teacher Andrea Thomas transforms into the modern day incarnation of the Mighty Isis!