Ultra Sonic Edukators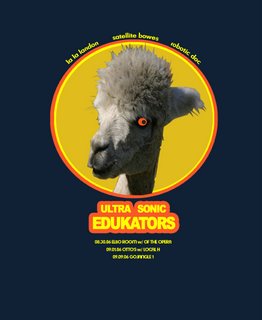 I saw a performance by the
Ultra Sonic Edukators
the other night. They're a local Chicago-based band who
compose their own music
and they're very good. One of the band members is the son of my good buddy, Sean Nolan -- who has been trying to get me to out to one of Dagan and Calhan's shows back in the
Speedwell
days. Things always seemed to conspire against me and I was never able to go.
That all changed last Wednesday night when I got to take in the Edukators full force at the
Elbo Room
on Lincoln Ave. in Chicago.
I got to the lounge a little early, so I have to wait in the upstairs bar while the Edukators were setting up downstairs. I watched the Edukators sound check on closed-circuit TV while I nursed a
Newcastle Brown
and even heard a taste of Leisure Lane when the door to the stage opened briefly.
Sean showed up with his lovely wife Sian (my American accent will never be able to produce the subtle pronounciation difference in their names) and another couple and it was time to head down to the stage.
The show was infectious and although I'm not the demonstrative sort I soon found my toes tapping and head bobbing to the great songs the guys had written. The Edukators seemed to be influenced by the Beatles, Ramones and Blur among others and the music was so good the set seemed to fly by.
Apparently there were record company executives at the show -- so let's hope all goes well for the boys.
And to finish off the night I headed across the street to Muskie's for a cheeseburger and fries. Delicious!