The Eagle has Landed - RED MENACE Coming This Fall!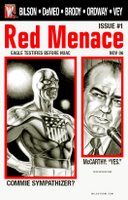 Jerry Ordway's secret project was revealed, today, at the San Diego Comic-Con and in the pages of TV Guide!

Jerry and inker, Al Vey, will team with writers Danny Bilson and Paul DeMeo (writers of THE FLASH) along with O.C. TV star, Adam Brody, for a 6-issue Wildstorm mini-series titled RED MENACE.

The story involves the HUAC, blacklisting of super-heroes and Senator Joseph McCarthy.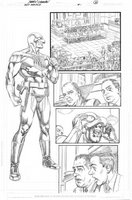 Waiting for the San Diego announcement was tough, especially after TV Guide broke the story this week in the July 24th issue.

See full reports on the series at: