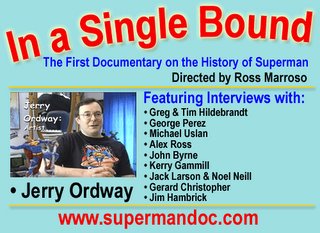 Director Ross Marroso has produced a documentary called
In A Single Bound
which he says is the first documentary on the history of Superman! Marroso interviewed Jerry at Jerry's home back in 1999 for the documentary. Marroso says of DaOrdster's involvement in the project, "[Jerry's] support was instumental in its creation and in the final version remained a large part of the on-screen telling of the story."
This exciting project features a Who's Who of comic book artists and television actors including John Byrne, George Perez, Kerry Gammill, Alex Ross and Greg & Tim Hildebrandt as well as actors Jack "Jimmy Olsen" Larson, Noel "Lois Lane" Neill and Batman movie producer Michael Uslan.
With the new Superman movie in the wings,
In A Single Bound
, is just the thing to fill the void.
Find out more about
In A Single Bound
at
www.supermandoc.com
.