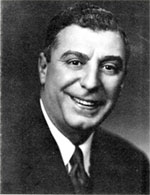 HENRY BIANCO
"Celebrate with a Fiesta…"

Henry Bianco Sells Feasts — Not Mere Food
Henry Bianco's Special "Fiesta" Dinners have won acclaim from columnists, welded a loyal clientele. They are based on the old Italian culinary celebration of feast days.
In old Italy, as Henry Bianco of the Club El Bianco, 2747 W. 63rd Street in Chicago, remembers it, most families ate modest and usually unchanging meals most days of the year. But holidays, anniversaries — anything calling for a celebration — were observed with fiesta meals which took as much as two or three weeks' preparation beforehand. Explaining that people did not eat in Italy everyday as "we do at Biancos," because it took too much time to prepare such meals. Henry says, "But a feast day, Christmas day, special anniversaries,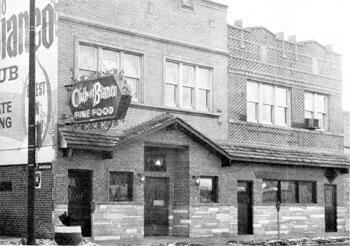 Main Entrance to one of Chicagoland's leading restaurants and private parking lot.
everyone turned out to prepare everything conceivable at its very best. Cheeses, antipastos, salads, soups, meats, desserts, and wines — a great day celebrated in a great way not to be forgotten in the days between feasts." This fiesta theme is the backdrop for the Bianco restaurant, and it was founded in 1948 on the conviction that every meal should be a special occasion and birthdays, holidays, etc., should be celebrated with special, deluxe Fiesta Dinners, where the diners (served family style) enjoy the profusion of delicacies of an Italian feast day without the labor of preparation.
The Bianco Fiesta Dinners are magnificent. They are examples of a kind of impromptu artistry, in that the courses are different and selected from the dishes that are on the menu. The sequence of dishes is carefully planned to build a cumulative effect and at the end, the diners have an expansive and completely satisfied feeling that they have tasted a great range of some of the best Italian cookery. A sample Special Fiesta Dinner might include the enormous and delectable antipasto for which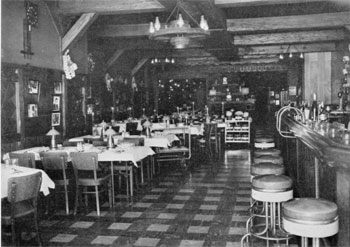 Main dining room showing cheery rustic atmosphere. Bar stools at right are green. Floor, with green and red tiles.
the restaurant is especially renowned, a bowl of minestrone soup, a variety of salads, pepperoni sausage, snails in season, chicken a la cacciatore with lime sherbet ("potatoes would fill you up; the sherbet enables you to eat more"), egg plant a la Parmigina, baked mostaccioli with Ricotta, veal scallopini, fruit plate dessert, spumoni, helpings from the cheese, nut and pastry carts and delicious coffee. Between courses the waitresses recommend the diners to pause momentarily to allow the taste buds to get ready for the next onslaught. Any one of the dishes served would make a complete meal, and diners are invited to eat as much as they care to of each dish.
The Bianco menu sums these dinners up, reading: "BIANCO SPECIAL FIESTA DINNERS are a Gourmet's delight, served in a manner befitting festive royalty of old. Every course is a revelation enhanced with recipes handed down through the ages." Perhaps it was after one of the Special Fiesta Dinners that Jimmy Savage, the Chicago columnist, once wrote, "A three hour meal from soup to nuts and not an inch of spaghetti." The napkin service indicates the elaborate service: two large napkins are provided, one to be spread in the lap,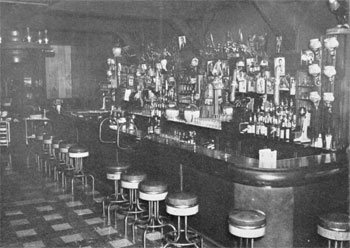 The bar at Club El Bianco. The informal, profuse with good-things-look, a beginning of pleasure in dining out.
the other to be folded and thrown over one shoulder for patting the lips after each course. Certainly such a dinner is excellent for good customer relations. The quality and quantity of the food and the splendid service tend to flatter the diner. As one gourmet put it after completing such a meal: "One feels like a celebrity after having been served one of Bianco's Special Fiestas."
One day recently, two young ladies were enjoying a dinner and were surprised to see their fruit dessert course arrive bedecked with two burning sparklers. They asked their waitress the meaning of the sparklers. She smiled and replied, "It is in honor of your birthday today." "Why, yes," one of the girls admitted, a bit puzzled, "it is my birthday, but how did you know?" "It is our duty;' said the waitress with a courtly continental bow, "to find out if people we serve are celebrating a special occasion and to acknowledge it in this manner to help you celebrate."
The Club El Bianco, which maintains a staff of 40, also serves the usual six course meal with a single entree.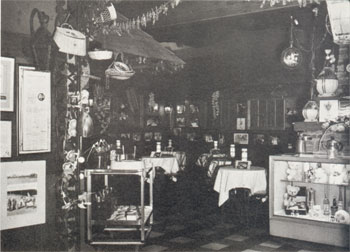 Here's the charm of an old world sidewalk cafe with wrought iron chairs and tables.
Specialties not mentioned in the above described Special Fiesta Dinner are home-made ravioli with Ricotta, chicken Vesuvio, and chicken livers sautéed in wine. The menu adds an interesting admonition to steak eaters: "NOTE: We are not responsible for any steak ordered well done." Another note advises "If you enjoyed your dessert and wish more help yourself." Besides carry-out packages of gelata and spumoni, pastries and cookies are for sale. The wine punch is a popular beverage here and it is prepared by the Bianco staff. Hot garlic bread is prepared individually by the waitress. Dinner is served from noon to closing.
Besides stocking the usual table and dessert wines that diners request, Bianco features some of the great Italian wines — Lagima Christi, Asti Spumante, and Frascati are perhaps the best of the wines from around Rome, Galliano, Strega and Flora della Alpi are some of the cordials available to write fin to the meal.
The scene in which this food and wine are served is full of Italian and rustic atmosphere and charm.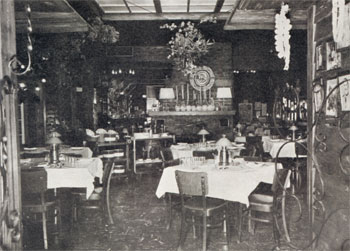 In cold weather, fire burns in the grates of the fireplace. Table setting shows El Bianco's elaborate service and hospitality.
The main dining room shows uncovered wooden cross beams and supports, charred slightly and with a somewhat Western look. Henry Bianco personally designed and executed the interior decoration of the restaurant himself. A colorful checked floor, green leather upholstery of the bar and the green chair tops create a fiesta of color for the eye that harmonizes with the food served. The lounge simulates a sidewalk cafe with wrought iron chairs and tables. Imported wines, cordials, and small gift items are on display here for those who would like to take home a souvenir. At the entrance stands a little Sicilian donkey cart, which is an heirloom of Henry Bianco's family. The cart weighs a little over 150 pounds, is gaily painted and can be thought of as a symbol of the pure pleasure to be found at El Bianco.
The carts, gelata, cheese, nut and pastry enhance the continental air of the restaurant. All cheeses (including goat milk cheese, provolone, etc.) are purchased green and ripened in the restaurant's cellar with frequent rubbings of wine. Eventually the wine permeates the cheese. The nut cart contains ceci nuts, St. John's bread (which is a dried fruit upon which St. John the Baptist is supposed to have lived on when in the desert), salted peanuts and delicious kind of brittle, Italian biscuit. Pastries on the pastry cart are all baked by the Bianco staff.
Henry Bianco selected an ideal spot for his restaurant. It is along a busy thoroughfare, in a small shopping section of a prosperous residential district. A large Catholic church stands across the way and a few doors down.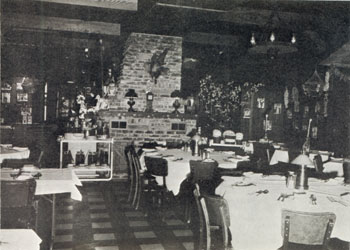 The Club El Bianco Annex a continuation of beautiful Dining Atmosphere and Dining Ecstasy.
There is also a predominately Italian neighborhood about a mile south of the restaurant. And to the west, lies the sprawling Clearing Industrial district. Needless to say, Bianco draws diners from all of these areas as well as Chicagoland suburbs. Families, professional people, clergymen, office girls celebrating engagements and so forth, their superiors and employers — all crowd El Bianco and enjoy the fare. A girl living in the neighborhood will visit the restaurant with her family. She may work in the Loop and when her co-workers plan an evening dinner together she may suggest El Bianco's. Thus she draws a new group to the restaurant and when they part at the end of the evening, each is off to spread the fame of the Club El Bianco, with a self-assumed mission and with an enthusiasm, that often borders missionary zeal.
People seem to be willing to travel a surprisingly long way to eat at Bianco's. Regular diners from neighboring states as well as visitors from all over the world come to eat a la Bianco. Employees of a concern on the north edge of the city may settle on the 63rd Street restaurant as the scene of a particularly happy celebration, and none of them seem to mind the trek that lies between office and restaurant. The Special Fiesta dinners make the place popular with tourists because thus they can sample a number of different Italian dishes at one time.
The El Bianco kitchen was recently remodeled and refurnished with the latest devices for efficient food preparation. To the left of the swinging door entry is the antipasto department — a long table at which work changing crews of four women,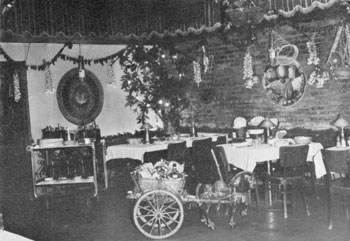 The little Sicilian donkey cart adds a festive air to the intimate Garden Room.
whose sole duty is the arrangement of the profuse antipasto trays. In the center of the kitchen is a long work table, spacious as required for Italian style cooking, and beyond that are the ovens, range and broiler. There are separate vegetable and meat coolers across from each other near the rear entrance, easily accessible to both the kitchen and delivery trucks bringing produce and meat.
Club El Bianco is completely air conditioned. Except for Christmas and Thanksgiving, the restaurant is open daily at noon. In the past, reservations were not taken. As Henry Bianco explains it, when people enter the restaurant they are seated and served. They may eat for an hour or they may eat for three hours. Thus it would be impossible to count on obtaining a table for a given hour, to reserve a table in advance, as it might not be free when the reservation party arrived ready to eat. Since the addition of a new dining room, it has now been made possible to accommodate reservations throughout the week except on Saturday. Although Bianco's has no private dining rooms, Henry finds that groups are eager to take tables out in the main dining rooms for small luncheon and dinner parties just for the sake of the fine food, cocktails and service.
Seal of Approval by Dining in Chicago